Less than 1 year old on Allbiz
Technical characteristics
Brand

Мет-ком

Country of manufacture

Russia
Description
For pressing reinforced steel drums. Thanks to a great effort (32 tons), the barrels are pressed into discs only 100mm high! Round press plate in the form of barrels. The presence of a viewing window. Punching teeth for safe pressing of barrels with overpressure, with vapors from fuels and lubricants and paintwork materials.
Barrels per hour:


50 - 60.

Press force:


32 tons
Small presses
Designed for pressing small and medium volumes of packaging waste in trade, industry, as well as for novice purveyors of recyclable materials.
Bale weight:


40 - 200 kg.

Press force:


6 - 16 tons
Medium presses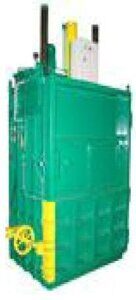 Designed for pressing medium and large volumes of recyclable materials and packaging waste in organizations of almost any kind of activity. Optimal size and weight of bales for a maximum load of 20 tons of Euro truck.
Bale weight:


250 - 350 kg.

Press force:


20 - 30 tons
Large presses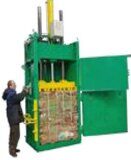 The most powerful vertical baling presses for large volumes of packaging waste and recyclable materials. Large presses are popular with professional waste collectors and MSW processors. The maximum bale weight is up to 600 kg, which allows you to quickly load a 20 tons euro truck with fewer bales.
Bale weight:


350 - 600 kg.

Press force:


25 - 52 tons
Strong guides protect the press plate from skewing. High rigidity frame made of thick - walled profiled pipes and reinforced bent profile. Hydraulics made in Italy / Germany. Automation made by "Schneider Electric", Russia.
For delivery questions, please contact

by phone. (342) 241 - 29 - 08, 241 - 29 - 26, 241 - 29 - 28.
e - mail: mc@met - com. ru
Contact the seller
Vertical baling presses